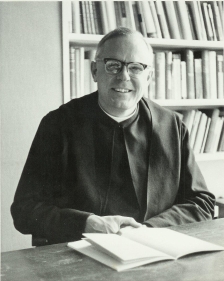 Fr. John Main O.S.B. (1926 - 1982)

Father John Main, who was an English Benedictine monk, of Irish decent, founded the first Christian Meditation Centre in Montreal, Canada.

He rediscovered Christian Meditation and introduced it anew to Christians in our time as a simple yet deeply contemplative form of prayer by which the practitioner could remain silently and constantly in God's presence.



Christian Meditation is a prayer of Stillness. The body and mind are completely silent and still. "Be still and know that I am God." - Psalm 46:10
In the stillness we bow in faith before the majesty of God who can reveal His unlimited love for us. Meditation is a simple direct method of making us present to God in love.

Christian Meditation is a Prayer of Faith. It is more important to experience its power in our lives than to try to understand or explain it. It is unlike other forms of meditation with which you may be familiar. Here there are no words, no thoughts, no concepts, no images. We pray with Jesus dwelling within us. It is no longer 'our' prayer for "we do not know how to pray." - Romans 8
The basis of the Prayer is the indwelling of the Holy Spirit. Deep within all of us dwells the Blessed Trinity.

At the depth of our being the Father continually loves the Son while the Son responds to the Father in love and prayer through the Holy Spirit. In our Prayer of Meditation we desire to be part of the love and prayer of Jesus to the Father. Rather than think up words or aspirations or images of our own, we wish to unite ourselves with the loving prayer going on continuously within us. In this prayer we also seek to open ourselves completely to the Holy Spirit that He may bring about in us conversion, repentance and faith in the Good News of Jesus Christ.